Melksham Chamber exists to provide a forum for local business to talk, work with each other and share information and advice. It represents their views on issues affecting the commercial life of Melksham and connects business and the community for the benefit of the town. The more voices we have the more effective we can be!
Visit the Melksham Chamber Forum on Facebook
Next Steering Group Meeting ……..
Tuesday 9th January, The Coach House, Kings Arms Hotel, Market Place, Melksham, 5.45pm for 6.00pm.
ALL WELCOME.
Our Next Event ……..
Tuesday 13th February
Site Visit to Knorr Bremse Rail Systems (UK) Ltd
Knorr Bremse moved to their purpose built facility in Melksham in January 2005 and are a world leader in Advanced Rail Systems. Knorr Bremse have kindly agreed to host a site visit from Melksham Chamber. This will be a fascinating insight as to what Knorr Bremse actually does on their Bowerhill site.
Date: Tuesday 13th February
Time: 10.30am, to enable us to see the factory in operation. The visit should take approx an hour and a half in total. A light lunch will be provided.
Cost: £5.00 per person (pay on the day but please note if you book and don't attend you will still be charged)
This will be a very popular event and places are limited to 30, although if demand is high it is possible to increase this.
Booking is essential.
Please book your place, by Tuesday 6th February as we need to know numbers, by dropping a line to our secretary via email: melksham@mail.com or via the Melksham Chamber Forum Facebook page.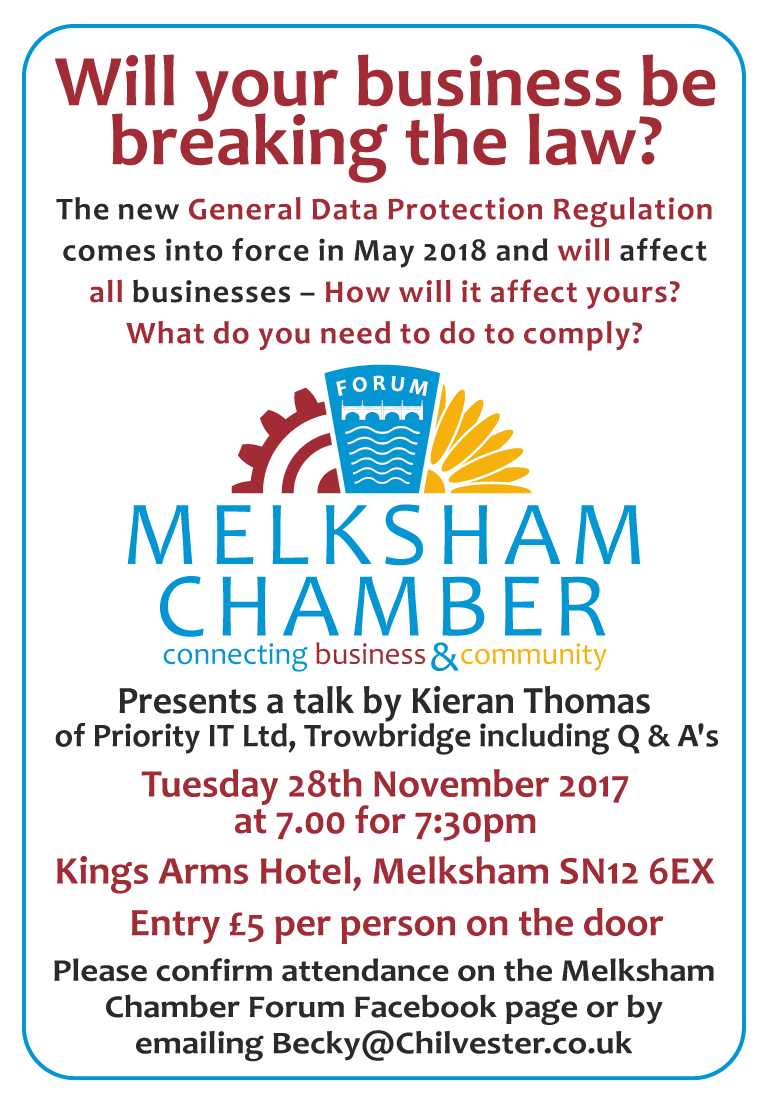 The General Data Protection Regulation is the most significant development in data protection that Europe, possibly the world, has seen over the past twenty years. Modern technologies have changed the way we work with data, and GDPR is designed to better control the way we work with personal data today and are likely to work with it in the future. Penalties are considerably harsher than before and the compliance requirements are intended to spread a far wider net to include small and medium businesses and the third-party contractors they use. People like us, in other words.
You might well ask, since we are leaving the EU, why do we need to worry? Well firstly, as of 25th May 2018, when it becomes law, we will still be part of the EU; and secondly, the UK government has declared that the UK will retain as high a standard of regulation and enforcement after leaving the EU.
Melksham Chamber has arranged a talk on all this so you can learn exactly what you need to do and when you need to do it by. It's taking place next Tuesday. The capacity of the room is limited and there's going to be a LOT of interest in this, so it's best to reserve a place by dropping a line to the organiser via email: becky@chilvester.co.uk or the Melksham Chamber Forum Facebook page.