Melksham Chamber exists to provide a forum for local business to talk, work with each other and share information and advice. It represents their views on issues affecting the commercial life of Melksham and connects business and the community for the benefit of the town. The more voices we have the more effective we can be!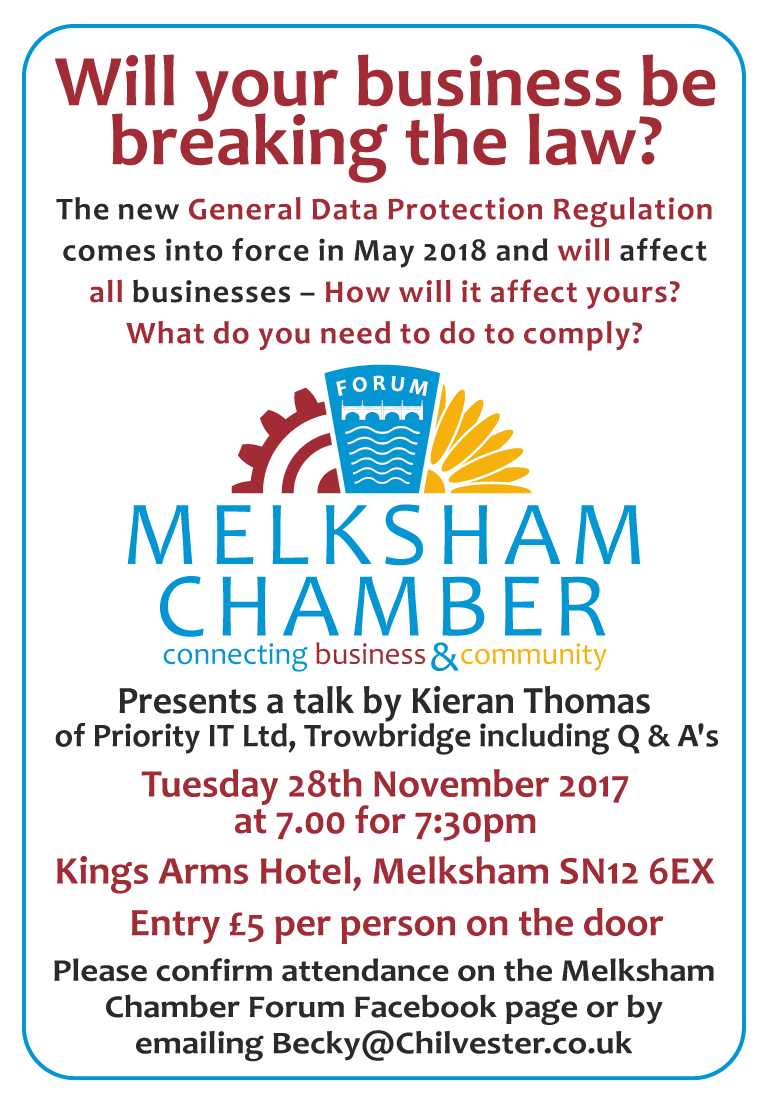 The General Data Protection Regulation is the most significant development in data protection that Europe, possibly the world, has seen over the past twenty years. Modern technologies have changed the way we work with data, and GDPR is designed to better control the way we work with personal data today and are likely to work with it in the future. Penalties are considerably harsher than before and the compliance requirements are intended to spread a far wider net to include small and medium businesses and the third-party contractors they use. People like us, in other words.
You might well ask, since we are leaving the EU, why do we need to worry? Well firstly, as of 25th May 2018, when it becomes law, we will still be part of the EU; and secondly, the UK government has declared that the UK will retain as high a standard of regulation and enforcement after leaving the EU.
Melksham Chamber has arranged a talk on all this so you can learn exactly what you need to do and when you need to do it by. It's taking place next Tuesday. The capacity of the room is limited and there's going to be a LOT of interest in this, so it's best to reserve a place by dropping a line to the organiser via email: becky@chilvester.co.uk or the Melksham Chamber Forum Facebook page.