Melksham Chamber exists to provide a forum for local business to talk, work with each other and share information and advice. It represents their views on issues affecting the commercial life of Melksham and connects business and the community for the benefit of the town. The more voices we have the more effective we can be!
Visit the Melksham Chamber Forum on Facebook
Next Steering Group Meeting ……..
Tuesday 12th February, The Function Room, Kings Arms Hotel, Market Place, Melksham, 5.45pm for 6.00pm.
ALL WELCOME.
Our Next Event ……..
Thursday 11th December 2018
Melksham Chamber Christmas 2018
Melksham Chamber of Commerce's Christmas Meal this year takes place on Tuesday 11th December 2018 at the Kings Arms in Melksham Market Place.
There may be a few places left. Check with our secretary via email: melksham@mail.com.
Our Previous Event ……..
Saturday 3rd November 2018
Site Visit to the Melksham Water Recycling Centre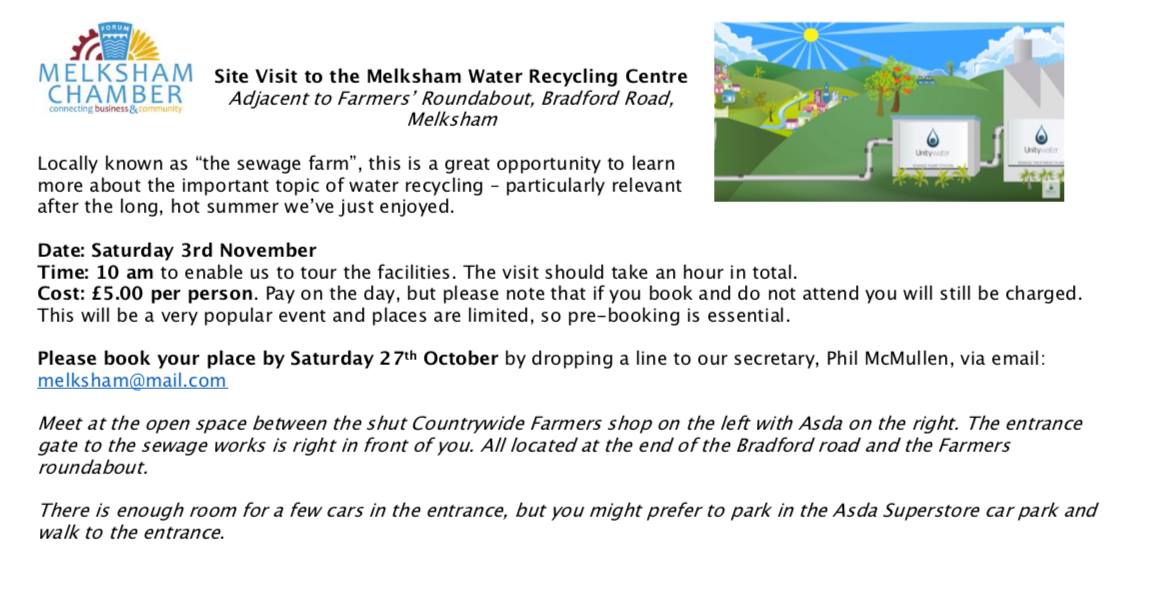 Cost: £5.00 per person (pay on the day but please note if you book and don't attend you will still be charged)
Please book your place, by Saturday 27th October as we need to know numbers, by dropping a line to our secretary via email: melksham@mail.com or via the Melksham Chamber Forum Facebook page.